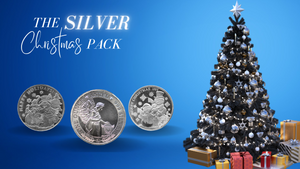 The Silver Christmas Pack
This product is non-recurring and ships on the 15th of December. All orders must be placed no later than the 5th of December.
If you've ordered from us before, the Silver Christmas Pack will be the same thing as our subscription Silver Crate. This however, is NOT a subscription, it is a one-time purchase item. If you've never ordered from us before, please read the description below to get a feel for our operations.
How we fulfill each order.
Based on the price tier you select, we use the largest (in terms of weight) piece of Gold available for that price point. Any remaining dollar value left is filled in smaller (in terms of weight) Gold pieces. We do not stock "grain" sized bullion because frankly it is absurdly expensive, so if a few dollars is left over we will use a small fractional Silver piece to get the box to the closest dollar value that was paid.
Silver Coins
Silver Coins or "Silver Sovereigns" are circular Silver pieces of various denomination and weight that are officially authorized by a government. In other words, Silver Coins are coins that are deemed "money" and have with it a monetary value but are made of pure Silver. Some popular Silver Coins that make a regular appearance in our crate and pack products are as follows;
American Silver Eagles (U.S. Mint)

Canadian Silver Maple Leafs (Royal Canadian Mint)

Australian Silver Kangaroo & Other Wild Life Variants (Perth Mint AU)

Silver Krugerrand (South African Mint)
British Silver Britannia Coins (Royal Mint UK)
Korean Silver Chiwoo & Tigers (South Korea KOMSCO)
Silver Angel Coins (St. Helena EIC)
Noah's Ark Silver Coins (Armenian Mint)
Silver Libertad Coins (Mexican Mint)
And many more...
Silver Rounds and Fractionals
Silver Rounds, as stated above, may make their appearance to "top off" the remaining dollar value of the Christmas Pack. This is because most Silver coins come in 1 ounce sizes, so if a few bucks are left over, in order to get the most bang for the buck, we may use something like a 1/10th oz Silver round to deliver that. Pure Silver rounds are made by private mints all over the world, here are a few examples of that;
Asahi Refinery (USA)

Nadir Rafenri (Turkey)

Scottsdale Mint (USA)

Valcambi Suisse (Switzerland)

PAMP Suisse (Switzerland)

Monarch Precious Metals (USA)
The Golden State Mint (USA)
And many more...
If you have any questions about the Christmas Pack series of product we release this time of year, feel free to reach directly out to us here.
FREQUENTLY BOUGHT TOGETHER
The Gold Christmas Pack
$200 +
The Combo Christmas Pack
$200 +